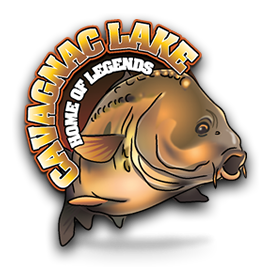 FAQ's
Frequently asked Questions
What's the weather like at Cavagnac Lake?
According to the seasons, the 3 main climatic influences show their effect: during spring and autumn, the West and South-West winds give an oceanic climate. During the winter, the North winds bring a continental climate. Finally, during the summer, the climate is influenced by the Mediterranean. But the altitude and the relief bring variance to these general characters. South, the rivers have sculpted real canyons such as the famous gorges du Tarn and the climate is Mediterranean.
Will there be any hidden costs when we get there?
No, once you have paid the full fee of your booking and paid the refundable deposit of €100 on arrival, no extra taxes will be applied. You will need to allow for items such as bait and any equipment you hire.
Can we book shorter and longer stays?
Yes, subject to availability. Contact us for more information.
Is bait available at the lake?
Boilies, particles and tiger nuts can be purchased on site and ordered online as an extra.

If I book the Drive and Survive, will I be able to get a food package?
Food packages can be booked in advance online as an extra.

Is the complex secure?
Yes, the lake is private with car park after the entrance.
Will there be anyone there who speaks my language?
Yes, we speak English, Spanish and French.

Is there a tackle shop on site?
Yes, you will find there all the necessary tackle (end game) or baits needed at competitive prices. The tackle shop is open from 9 am to 10 am and 5 pm to 6 pm.

Can we buy food and drink at the lake?
Yes, a selection of snacks and drinks are available.

How far is Cavagnac Lake from Calais?

Cavagnac Lake is 900 km (560 miles) from Calais.

How far is Cavagnac Lake from Valenciennes?
Cavagnac Lake is at 800 km from Valenciennes. .

Can we unload our tackle at the swim with our car?
You can unload from you car at Channel, Stalk, Lodge and Shallows only.

Is it possible to bring guests that won't be fishing?
Yes and if you would like to bring more than 1 guest the local area has some beautiful gites and cottages available.
What's the currency at Cavagnac Lake?
Everything needs to be paid in Euros.

Can we charge our phones, computers, cameras etc at the lodge?
Yes, there are English sockets around the Lodge and available 24/7.

How much luggage can I bring?
If you are booking the All-inclusive Package you don't need a lot of luggage. Just bring reels, alarms, your end tackle, some clothing and sleeping system.

What's the score with Ryanair and luggage allowance?
Each passenger can check in up to two checked bags upon payment of the applicable checked baggage fees by electing to purchase a checked baggage allowance of either 15 kilos or 20 kilos when making a booking.
It is best to check Ryanair's website for the latest requirements when booking:
www.ryanair.com/en/questions/baggage
Can we rent a car?
Yes, there are 4 companies at Toulouse airport.