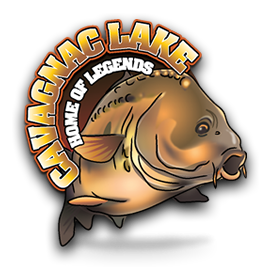 The Experience
Here at Cavagnac Lake, we aim to provide you with the best fishing experience. A relaxed atmosphere in beautiful surroundings makes for the perfect holiday.
Situated in the heart of the French countryside, Cavagnac boasts a natural 52 acre lake with some of the finest carp in France. Enjoy top quality equipment, comfortable accommodation and facilities, freshly cooked meals and expert advice on achieving your greatest catch.
The magnificent 52-acre Lac Cavagnac is home to some huge carp, with more than half weighing over 30lbs Cavagnac Lake is home to some of Europes Legendary Carp.
The Lake holds some stunning looking carp with well over 1000 to date. This includes a good range of mixed commons, mirrors, linears and leathers. We also have around 150 grass carp that make an occasional appearance. Cavagnac Lake is also home to some record breaking species of Carp and is also stocked with Pike, Perch, Roach and tench .
Our spacious lodge gives you the option of relaxing and socialising with a magnificent view. You are able to make use of this space at all times. With an outdoor seating area and access to electricity, you can make yourself at home while you are away from your swim. We have 2 showers with endless hot water and 2 spacious toilet blocks to enhance your stay. These facilities are free to all our guests as well as Wi-fi at the main lodge.
In the truly stunning location of the Aveyronnaise valley, we are sure you will have a trip to remember.
Choose from our specially tailored holiday packages to find the one that suits you best.
WEATHER
Today's weather at Cavagnac
22°C
Pressure
1026

Humidity
60