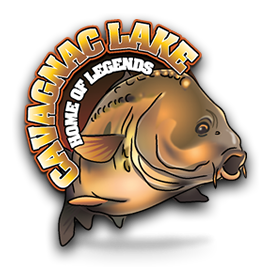 Our Babies
The magnificent 52-acre Lac Cavagnac is home to some huge Pike, including more than 300 weighing up to 11lbs / up to 5 kg, more than 200 weighing 11-22lbs / 5 to 10 kg, and a lot from 22 lbs + 35 lbs caught / 10 to 16 kg caught.
Cavagnac Lake is home to some of Europes Legendary Pike.
The Lake holds some stunning looking Pike with around 550 to date. We also have arround 200 Perch that like also to make a quick appearence (5 lbs + / 2.5 kg + ). Cavagnac Lake is also home to some record breacking species with huge Pike , Carp , Grass carp, Roach and a very limited stocks of tench .
We are pleased also to inform you that species in our lake are controlled and we have NO catfish, no sturgeons, no bream, no small catfish, no chub and also no crayfish, so NO NUSENCE fish here.
Cavagnac Lake is a Lake of beautifull surroundings but also for your fishing comfort, we have NO WEED OR SNAGS AT ALL to make your fishing difficult. Spots and features are veryeasy to reconise and we proud in offering you nothing but the best sercice whilst on your fishing holiday.
MORE PICS
WEATHER
Today's weather at Cavagnac
Clear

17°C
Thursday
Partly Cloudy

Friday
Overcast