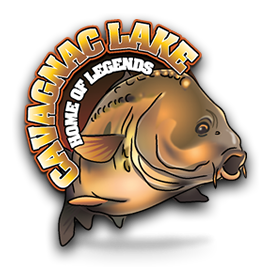 Drive & Survive
Get yourself to the lake with your equipment and we'll do the rest!
You have had to brave a few hundred kilometres, and done a lot of driving across the country! We know you'll arriving chomping at the bit, dreaming of getting your rods out. Rignac ... Bournazel ... and at last you can see the water ... Cavagnac ... and our magnificent lake full of carp, big Carp! Situated in the middle of nowhere, far from the city, the cars the noise, the stress ... in short: perfect paradise for fishing fanatics, or simply for those who are longing for a "break" in their busy life. If you're looking for a place to be at one with nature, peace and wildlife in a beautiful and relaxing place, you've come to the right place. Say goodbye to the stresses of the journey and day to day life - believe me, you're going to love it!
Arrival time is 11am and we will look after you right from the start! Relax and we will do our best to fulfill your dream (and help you catch your personal best), sharing inside knowledge of the lake and best tips on how to catch our big ones.
Arrival time must be after 11.30am and before 3pm. There is a parking area available outside the complex from 11.30am until lake opening time at 11.30am to 15.00pm. Departure time must be after 7.30am to 11.00am on your last day and not before so as not to disturb other anglers. (Use of the car park is at your own risk.)
After drinks on arrival, the site manager will talk you through catering arrangements, lake rules & safety, respect of the environment. We'll show you your fishing kit and boat and let you know all the joys of the lake, then load your luggage into the boat and be taken to your swim. We know you'll be dying to get on the bank and get cracking!
Be assured, the Cavagnac Lake team are always on hand for advice about your fishing or the lake itself and to help take photos of your catches - just call or text us and we'll be right there if you need any help catching your PB!
The Drive and Survive Package price €300 (approximately £250), minimum deposit of €150 per angler secures reservation, balance payable 8 weeks before arrival date or payment in full on booking (short term bookings i.e. less than 8 weeks, full payment due at time of booking).
What's included:
Loan of 1 landing net, 1 weigh sling, 1 unhooking mat, 2 carp sacks.
Shower and toilet facilities.
Superb fishing!
Breakfast and meals can be purchased at the lodge and ordered online as an extra (see below).
Optional extras
Extras can be ordered in advance when you make your booking online or purchased when you arrive at the lake:
Breakfast and evening meals. Meals include: a full english or continental breakfast and evening meal cooked by our resident chef, Arny.
New electric outboard motorboat with 120 Ah battery, solar panel - €80 euro per week.
Catamaran Bait boats cost €80 per week.
Additional rods - €40 per rod per week.
Bait
The package does not include bait, particle and tiger nuts. These can be purchased at the lodge or in advance when you make your booking online. For fish safety reasons, only partical and tiger nuts are allowed on the lake.
Departure
Unfortunately, time flies when you're having fun and at the end of the week you'll need to check over and pack up your equipment and make sure it's in the same condition as when you arrived. You'll be collected from your swim at 9am on your last day and brought back to the Lakeside Lodge for departure by 11pm.
Refundable Deposit
A refundable security deposit of €100 must be paid on arrival. The security deposit is only returnable if the fishing equipment is returned in full working order, and the swim is left as it was found i.e. no RUBBISH.

MORE PICS
WEATHER
Today's weather at Cavagnac
Clear

17°C
Thursday
Partly Cloudy

Friday
Overcast